Musicians and stakeholders in the arts industry have asked the Kenya Copyright board (KECOBO) to reinstate Music Copyright Society of Kenya as Kenya's main Collective Management Organization (CMO) to ensure artistes are paid their dues from artistic works.
At the heated stakeholders forum organized by KECOBO in Nairobi, the musicians and artistes lamented that in the two years that MCSK had been denied a license, artistes had lost millions of shillings that would easily lead to a cripple of the vibrant arts industry.
KECOBO, the regulator, had in the year 2016 declined to renew MCSK's license citing failure to submit list of members and audited financials statement, something that MCSK denied. Instead, a new entity dubbed Music Publishers Association of Kenya Ltd (MPAKE) was given the green light by KECOBO to collect royalties on behalf of the artistes. However, a court judgment on July 13, 2018 by Justices R.N Sitati, D.S. Majanja and T.W. Cherere declared the license to MPAKE null and void leaving the industry in a state of confusion.
Uninformed Decisions…
The artistes argue that with more than 13,000 members and offices across the country, MCSK is the only Collective Management Organisation with the capacity to effectively look after their interest.    
The artistes at the forum turned the heat on KECOBO's Executive Director Edward Sigei insisting that he imposed MPAKE on them and claimed that the body had collected millions but has never remitted any royalties to them since it got the license.  
"We will not sit back and let KECOBO make uninformed decisions while we suffer the consequences of their decisions. Yes there may have been challenges at MCSK but those would have been solved and individuals found culpable dealt with but it is unfair to punish thirteen thousand artistes for one person's mistakes,' noted Saitoti, a recording artiste and a producer who spoke at the forum.
Fair vetting and licensing…
Moderated by showbiz veteran Big Ted Kwaka, the forum got presentations from Music Copyright Society of Kenya (MCSK), Music Publishers Association of Kenya (MPAKE), Kenya Association of Music Producers (KAMP), National Music Copyright Society (NAMCOS), Collective Management Services (CMS) as well as Performers Rights Society of Kenya (PRISK).
In MCSK's defense, Nairobi Regional Manager Peter Inyenze in his presentation before the board and the stakeholders lamented that the organization had not been given a fair hearing by KECOBO. He added that with over 13, 900 members, MCSK had established the right systems well capable of sufficiently collecting and distributing of royalties on behalf of artistes.
'Having been in existence for over thirty years and with a proven countrywide reach, we have over the years demonstrated due diligence and are committed to serving our members. It is our plea that the Kenya Copyright Board finds MCSK fit to continue as the Kenyan artiste's CMO,' said Mr. Inyenze.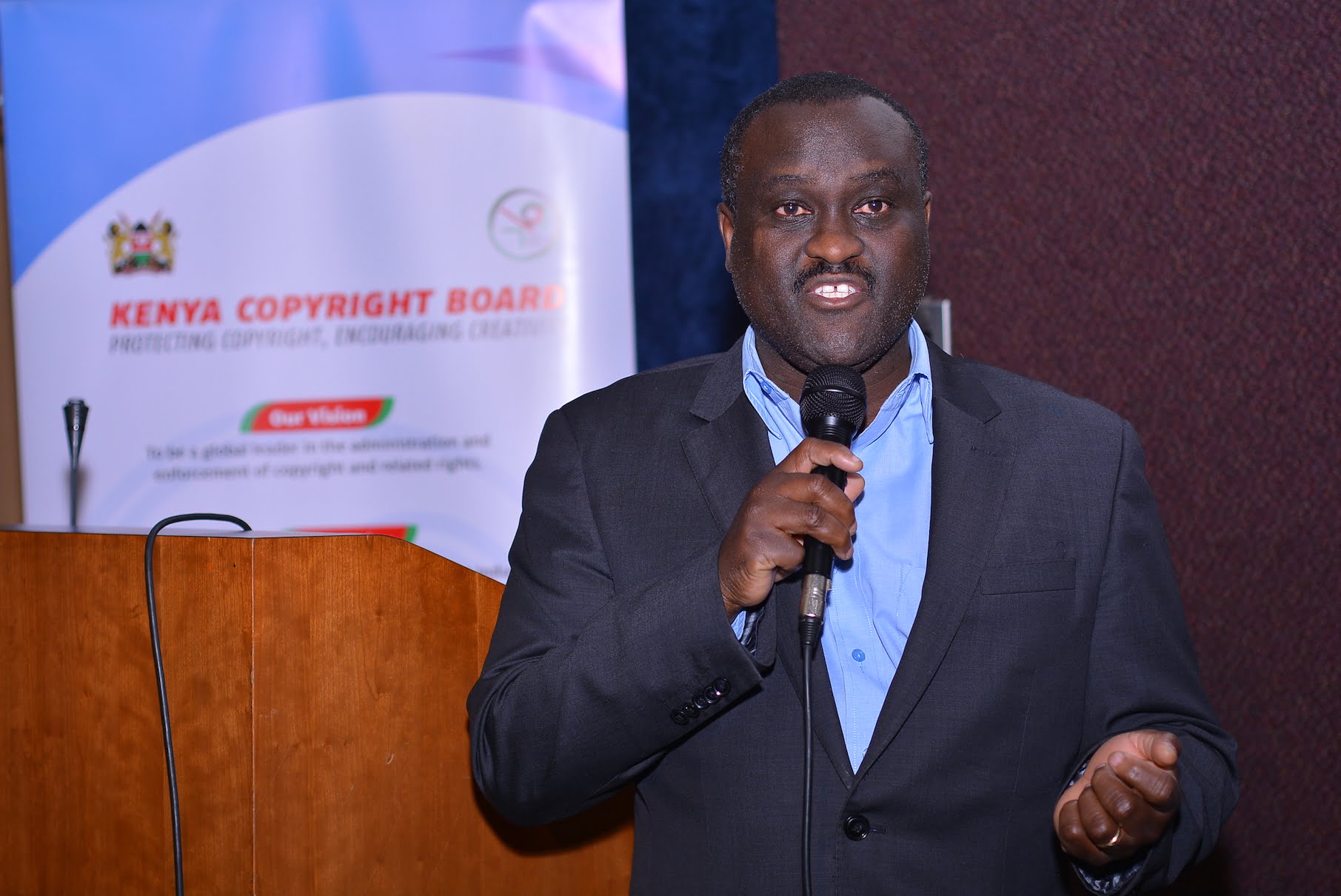 Speaking at the forum, KECOBO Executive Director Edward Sigei noted that the board is obligated to issue licenses in accordance with the law and regulatory provisions thus it was wrong for MCSK members to imagine that the organization had been denied a license for the last two years as a way of settling scores.
'All the CMOs represented here today have applied for licenses for royalty collection for the coming year. As much as we shall consider your pleas to reinstate your favorite CMO, they must conform to provided rules and regulations and meet the recommended thresholds,' Mr. Sigei said.
Speaking at the same event, the Permanent Presidential Music Commission boss Prof. Donald Otoyo who also sits in the KECOBO board urged the CMOs to put their houses in order so that the Kenya Copyright Board is not used as a punching bag in the future. 'We have been in this industry for a long time, we know what happens within these CMOs, we know which people are 'eating' money meant for artistes, we want to urge you to put your houses in order so that as a board, we can issue licenses to organizations that have the artistes welfare at heart,' said Prof. Otoyo.
The vetting process is still ongoing and public participation is still open until the 14th of this month before the board reviews all applications and presentations. The board is scheduled to sit on 20th September 2018 to finalize on the vetting process that will be followed by the awarding of licenses to CMOs that meet the requirements of the regulator.