Anti-Counterfeit Authority feted for Intellectual Property Rights Enforcement by Dolby Laboratories Inc. By Moses Cheruiyot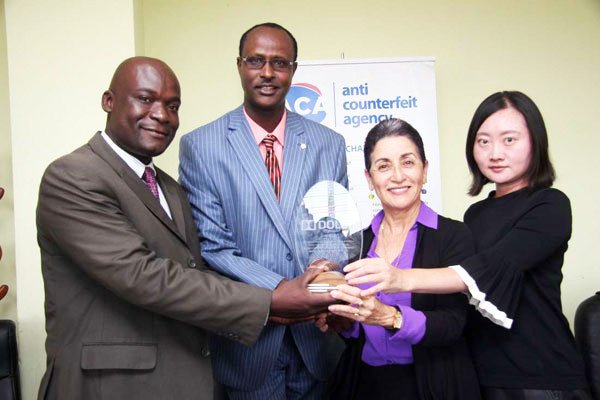 In Summary
– Award comes at a time when ACA has recently been elevated to a full Authority in
December 2018, as per the Statutes Law (Miscellaneous Amendments) Act 2018
– The multi-agency team is coordinated from the Office of the President under
the Deputy Head of Public Service, Mr. Wanyama Musiambo.
– Protection of Intellectual Property and its effective management guarantees
multinationals greater returns on capital invested in their business – and
particularly increasing their shareholder value
– Recognition comes at a time when the government, through the State
Department of Trade has ramped up its efforts to combat illicit trade,
through the Multi – Agency Anti-Illicit Trade Outreach (MAAITO)
– Agencies under MAAITO will be working more closer to ensure illicit trade
does not impede progress towards the Big Four
Dolby Laboratories Inc. has recognized the Anti-Counterfeit Authority for the
agency's efforts in enhancing the protection of intellectual property rights. The Anti-
Counterfeit Agency was established under the Anti-Counterfeit Act 2008 as a State
Corporation with the mandates to enlighten and inform the public on matters
relating to counterfeiting, combat counterfeiting, trade and other dealings in
counterfeit goods, devise and promote training programs to combat counterfeiting
and co-ordinate with national, regional or international organizations involved in
combating counterfeiting.
The recognition comes at a time when the government, through the State
Department of Trade has ramped up its efforts to combat illicit trade, through the
Multi – Agency Anti-Illicit Trade Outreach (MAAITO). The multi-agency team is
coordinated from the Office of the President under the Deputy Head of Public
Service, Mr. Wanyama Musiambo.
This has seen building of synergies and coordinated efforts of the different
stakeholders with more than Ksh. 80 billion worth of illicit goods seized over a period
of 4 months between June-September 2018.
While announcing the recent elevation of ACA to a full Authority, with an expanded
mandate and powers, such as policy guidance to the Cabinet Secretary and
Research, Mr. Elema Halake, the ACA Executive Director underscored the need for
more collaboration between the private and public sectors in dealing with
counterfeits.
"In addition to the award, this forum gives us an opportunity to enhance our private
sector collaboration initiatives. We are delighted that more enforcement and
inspection officers under ACA and related government outfits such as KEBS, KECOBO
among others, will be trained on how to identify counterfeit goods".
Speaking during the event, Vivian Vassallo, Global Director, IP Protection &
Enforcement, Dolby Laboratories Inc. said that they were delighted to have a
strategic partner to work with in reducing the counterfeits menace in the country.
"At Dolby, we are excited about the progress the Kenyan Government in setting up
institutions and structures like the ACA, to tackle with issues of counterfeits and
illicit trade, which often discourage foreign companies from investing due to the
unfair trade practices."
Protection of Intellectual Property and its effective management guarantees
multinationals greater returns on capital invested in their business – and particularly
increasing their shareholder value. It is equally important to a country like Kenya
since with more multinationals coming to this country, we are assured of economic
growth through increased employment and entrepreneurship opportunities.
In line with supporting the attainment of the Government's Big Four Development
agenda, Mr. Halake said that dealing with counterfeits and illicit trade is a key driver,
and agencies under MAAITO will be working more closer to ensure illicit trade does
not impede progress towards the Big Four.
Dolby Laboratories (NYSE: DLB) is based in San Francisco with offices in over 20
countries around the globe. Dolby transforms the science of sight and sound into
spectacular experiences. Through innovative research and engineering, it creates
breakthrough experiences for billions of people worldwide through a collaborative
ecosystem spanning artists, businesses, and consumers. The experiences people
have – with Dolby Cinema, Dolby Vision, Dolby Atmos, Dolby Voice, Dolby
Dimension, and Dolby Audio – revolutionize entertainment and communications at
the cinema, on the go, in the home, and at work.
Dolby, Dolby Atmos, Dolby Audio, Dolby Cinema, Dolby Dimension, Dolby Vision,
Dolby Voice, and the double-D symbol are among the registered and unregistered
trademarks of Dolby Laboratories, Inc. in the Unites States and/or other countries.
Other trademarks remain the property of their respective owners.