Prideinn Group Takes Up Azure Hotel On A Management Contract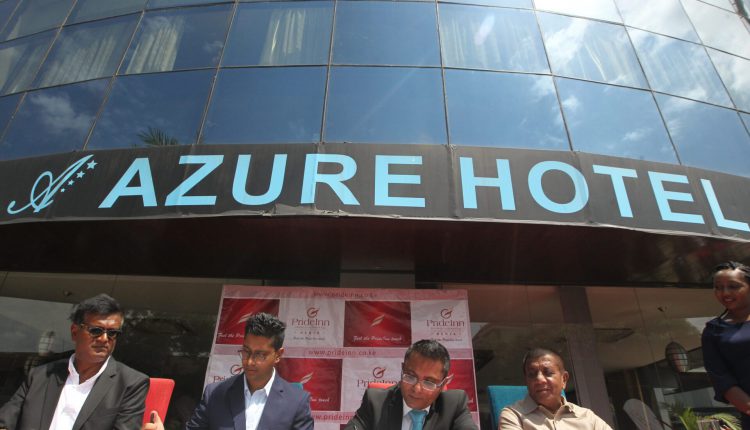 By CW Correspondent
PrideInn group of hotels has with immediate effect taken up Azure hotel, located in Nairobi Lantana road, on a revenue sharing management contract with a possibility of fully acquiring it within the course of this year. This new management contract will see the two investors use profits to strengthen the operational efficiency of the PrideInn Azure hotel in line with world-class best practices that suit the local market.
The PrideInn Group of hotels, whose vision has been to be the leading hospitality chain in East, Southern and West Africa is also looking to expand and grow its footprints in Kenya and Africa at large using this new model of revenue sharing management contracts.  This is a model that will allow the group to invest in new facilities and also acquire more new hotels.
The new PrideInn Azure, located on Lantana road will be the group's 9th hotel. This comes barely two years after it acquired another beach resort in Shanzu, Mombasa. The group is now banking on growing its revenues and expanding the chain by opening acquiring more facilities across counties using the management contract model.
During the takeover, PrideInn Managing Director Mr Hasnain Noorani also commented on the state of the hospitality industry in Nairobi given the rumors that have been going round on social media. He affirmed that tourism business is growing despite the challenges they are facing and strongly urged the government to chip in and help in resolving the current major problems.
"Tourism and the hospitality industry at large have been growing. We are strong, we are solid and we are moving forward despite challenges that we have. But the potential in many counties in Kenya is untapped and it's massive even in Nairobi itself. The challenge is to be able to look at it with the right lens. To unlock the potential and solve the challenges the hospitality industry in Nairobi is facing, we need to have a 20,000-seater international conference facility in Nairobi. Contribution from tourism alone is enough to do this. I urge the president to do this or allow me do it myself," Said Mr. Noorani.
Noorani indicated that the group is also identifying strategic and high value markets that present unique outfit for their time-tested local services and ambitious growth plans.
"This hotel will act as a boost for the local and international business community. With 165 luxurious rooms and eleven modern conference rooms, PrideInn Azure has now increased PrideInn Groups room capacity making it one of the largest local hospitality chains in terms of capacity," said Mr Hasnain
"Given Nairobi's status as a strong economic hub within East Africa region, and against the back drop of rising middle class, we have every confidence that PrideInn Azure, will be a worthwhile investment," he added
Mr. Vishal Pindoria, Managing Director Azure Hotel also commented that the hotel was looking to grow and get better revenues now that they are under PrideInn Brands
Acquisition of Azure, a165 well-furnished spacious rooms, is part of the ongoing strategy to expand PrideInn. PrideInn Hotels Founder and Managing Director Hasnain Noorani said the group planned to invest in more hotel facilities over the next ten years, to strengthen its presence in East central and West Africa.  The group is looking at acquiring over 30 hotels in East, South and West Africa by 2030 using their new hotel management business model.