Aga Khan Development Network COVID-19 Response Programme Benefits Over 10 Million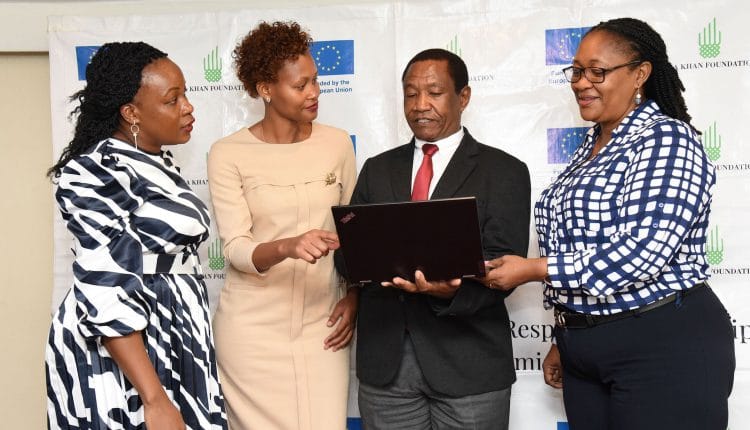 Kenya, Uganda, Tanzania and Mozambique have been impacted by the 9.4 million Euros funding through the Aga Khan Development Network Eastern Africa Regional COVID-19 Response Programme that closes this month.
The project, which was officially launched in December 2020 and jointly funded by the European Union (6.2 million euros) and Aga Khan Foundation (3.2 million Euros) sought to improve systemic, gender-sensitive responses to overcome the health, economic, and social vulnerabilities caused by the COVID-19 pandemic in Eastern Africa (Kenya, Uganda, Tanzania, and Mozambique). It has been established, by the report that over 10 million people benefitted from the programme.
This objective was achieved through a three-pronged, systemic approach; overcoming vulnerabilities among target communities, enhancing their capacity to cope with the impact of COVID-19, and improving health delivery systems.
"In partnership with the Aga Khan Foundation, the European Union was able to provide critical support in the health sector during the most acute phases of the COVID-19 pandemic. Our interventions also provided some relief on the social and economic challenges faced by many communities. I am delighted to see many positive outcomes of the interventions, especially in the livelihoods component that will continue to benefit young people to provide for themselves and their families and enable them to live healthy lives."
Henriette Geiger, EU Ambassador to Kenya.
The programme supported 25 public healthcare facilities across Kenya, Uganda, Tanzania and Mozambique by building capacity of more than 1500 healthcare staff, supplying hospital equipment and PPEs, and improving existing infrastructure, including digital health platforms. The programme has been running for 30 months since its launch in December 2020.
The response programme built community resilience by increasing COVID-19 awareness among vulnerable groups and training young journalists to share stories of hope. The project also partnered with 267 local civil society organizations (CSOs) to reach the most vulnerable community members' needs through training and rapid deployment of funds.
Speaking during an end-of-programme review meeting for the Eastern Regional COVID-19 response programme, Aga Khan Foundation Regional CEO Riaz Nathu said,
 "Partnering with local CSOs strengthened our capacity and innovation skills to meet community needs and created a platform for interaction and networking for Civil Society Organizations' members. These networks will further foster elevated levels of support and exchange of ideas that is essential for local CSO empowerment and their work in communities."
During the COVID-19 pandemic, healthcare systems were the most affected. The programme intervention to strengthen health systems trained frontline healthcare workers and supported government health facilities through the supply of PPEs, COVID-19 testing kits, intensive care equipment and medical goods, and digital healthcare equipment including infrastructure renovation.
It also increased access to adolescent and youth-friendly health services, including improved life skills and livelihood opportunities to over 45,000 young individuals. The project improved young girls' access to Sexual Reproductive Health (SRH), Gender Based Violence (GBV) and Mental Health services and information, and supported youth through innovation grants and design sessions to improve livelihood opportunities.
"The youth learning platforms created interactions between the youth and adolescents will continue to provide youth-friendly spaces for young people to network, share innovative ideas and local solutions to community challenges,"
added Riaz.
One hundred captivating stories of hope have since been shared through different platforms on how people navigated and strived through challenging times.
Led by the Aga Khan Foundation UK, the implementing partners included the Aga Khan Foundation (Kenya, Tanzania, Uganda, and Mozambique), Aga Khan Health Services (Kenya and Tanzania), Aga Khan University Hospital, Aga Khan University (Institute for Human Development, and the Graduate School of Media Studies & Communication), and Triggerise Stitching.
In attendance was Aga Khan Foundation Regional Award and Grants Manager Daniel Muraya and representatives from Kenya, Uganda, Tanzania and Mozambique.