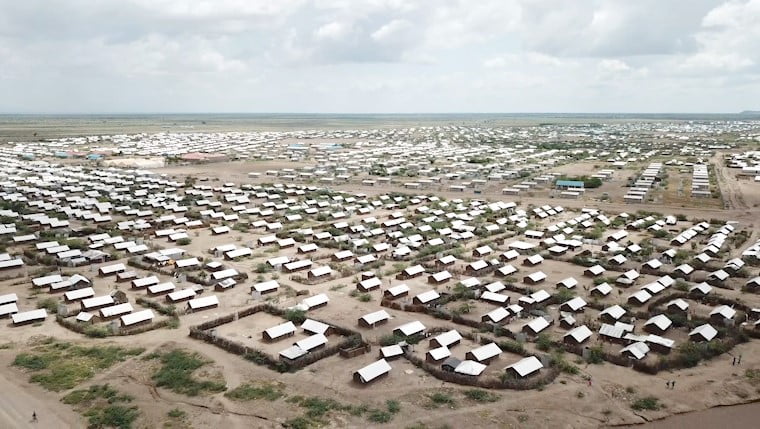 Kakuma Creative Camp Youths Using Talents to tell their stories.
CNN International revisits the Kakuma refugee camp to check in with the talented young creatives turning one of Africa's largest refugee camps into their own artistic space – even during the pandemic.
Kenya's Kakuma camp is home to almost 200,000 refugees. In 2018, CNN met young refugees living in the camp who were using film, song, and their creative talents to tell their own stories.
Filmmaker Amina Rwimo spoke about her motivation, "I want to educate. I want to pass message, I want to entertain. All those things because with film you can do that at the same time."
Refugees in the camp have fled from war and famine in countries like Burundi, South Sudan, Somalia and the Democratic Republic of Congo.  Aroji Otieno talked about this mix of cultures,
"The creative scene in Kakuma is very vibrant. I believe that that is mainly due to a collision of cultures coming together. It feels like it's an expression not only of themselves, but also an expression of trying to interact with one another and trying to find that common spot where everything is the same and that's the best way to be able to express that."
Otieno works for the non-profit FilmAid Kenya. The organisation teaches young refugees creative and technical skills such as filmmaking, journalism and photography. FilmAid projects were shown on big screens in the camp, in nine different languages, to promote unity and education. Otieno discussed this, "Most nights we have different films we are showing, and this is also the time where different people come from their houses and they come together. It provides for entertainment, it provides for a place where people can feel safe."
Now, as the coronavirus pandemic sweeps the world, gatherings have been limited, but the creativity in the camp has not been muted. Rwimo and her team have been documenting how Covid-19 has impacted the camp, using their filmmaking skills to spread information. She speaks about how coronavirus has impacted her work, "We have to learn to live with (Covid-19). You have to find a way to protect ourselves from it like we protect ourselves from HIV, from malaria, from cholera, from many other diseases that are just in this world. That means my plan, my vision has to remain the same because it's only that the Covid-19 has come but my dream is still the same."
In 2018, Rwimo and her co-founder Abdul Patient, had just launched their own production company. When CNN revisits, the company's offices are busy with activity. Rwimo speaks about the production space, "The idea was about empowering talent, giving space for artists from Kakuma to nurture their talent."
Rwimo is keen to help other refugees and change people's perception of those who live in the camp. She speaks about this passion, "I believe in helping my people. It's a platform that everyone can understand that refugees have talent, refugees have dreams and a vision, refugees can work really hard and become what they want to become in the future."
Inside Africa also revisits singer Mercy Akuot. She uses her experiences of escaping an arranged marriage to fight for women's rights and female empowerment. In 2020, she says that this job has got much harder with people trapped with abusive family members under coronavirus precautions, "At this time when people are at home, they find it hard to report their family members for violating them so that is a very big challenge right now, and we are just encouraging people to open up."
As well as her role educating women on gender based violence, Akuot is using her musical talent and collaborating with other artists to raise awareness of Covid-19 safety measures, "I believe that music is a very big tool for communication at this time and people are ready to listen to music that will speak a lot to them so that is why I was glad to work with other young artists in the camp and come up with the song 'Believe', because we believe that all this situation will end."
Courtesy CNN