Students To Join Tertiary Education Institutions Through Donation To Education Fund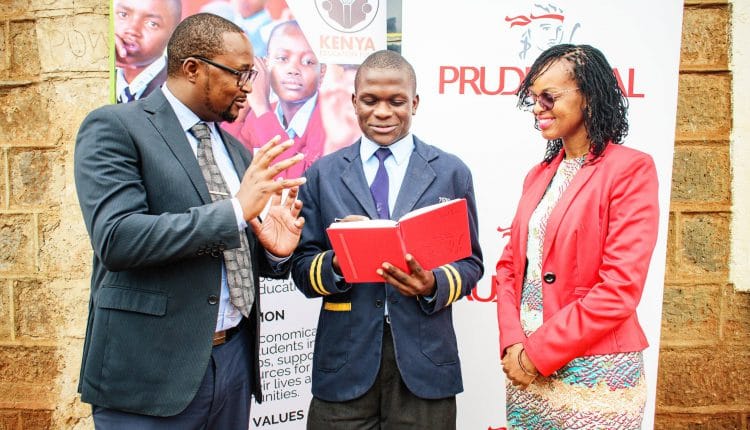 Founded in 2001 and registered in 2006, KEF helps children reach their full potential by providing full scholarships for high school and the first year of university and conducting yearly, week-long life skills, reproductive health, and career readiness workshops. By providing Kenyan youth with access to quality education, KEF tackles one of the root causes of poverty, gender-based violence, and injustice. The KEF supports students who are financially underprivileged, many of whom will not go to school without financial support, successfully transitioning 98% of them from high school to university. Partnering with prudential in a Sh 12 million donation, 205 students will be empowered as Moses Cheruiyot writes.
Prudential through its community investment arm, Prudence Foundation is supporting two hundred and five students to their first year of tertiary education through a Ksh. 12million donation.
The donation, which was presented to the Kenya Education Fund at the Oloolaiser National School, in Ngong, Kajiado County, was drawn from Prudential's Covid Recovery Fund. It will finance the first year of tertiary learning every year, starting this year, for the next three years, with beneficiaries drawn from all around the country. The beneficiaries will include students from financially disadvantaged households and those whose parents and guardians suffered a loss of income due to the Covid-19 pandemic.
The Covid-19 Recovery Fund was initiated by Prudential in 2020 to support approved charitable and community projects that address the immediate social and economic impacts of the pandemic.
Education was among the worst affected sectors in Kenya, as students stayed out of school for nearly seven months, and upon reopening had to contend with adjusted calendars.
Meanwhile, many families struggled to keep their children in school following layoffs, furloughs, and company closures. The situation is further worsened by the ongoing cost-of-living crisis and the impact of climate change. Already, over 2 million students aged 4 – 17 have been out of school since 2021, with the number projected to increase in coming days.
It is against this background that Prudential sought to alleviate the pain for students joining tertiary institutions, whose admission is relatively costlier when compared to the formative levels of school.
"Every year, over 200,000 students qualify for placement in universities and other tertiary education institutions, but thousands of these brilliant students miss out on the opportunity due to poverty. It really is unfortunate for students to struggle through primary and secondary school education, and just when they are about to join college – where many lives are transformed – they meet financial roadblocks that prevent them from proceeding.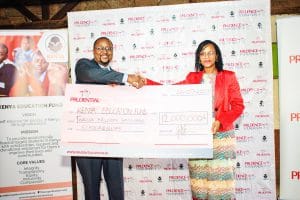 The situation worsened after the Covid pandemic with many breadwinners losing their livelihoods. At Prudential, we found this to be a disheartening situation and that is why we have been teaming up with Kenya Education Fund to support some of these needy cases," said Prudential Kenya CEO, Gwen Kinisu.
Prudential has an ongoing partnership with the KEF that started back in 2014. This partnership has seen over 180 students receive full scholarships for their secondary school and university education, supported by previous donation from the Covid Recovery Fund. In 2021, the partnership printed and distributed over 16,000 revision books to learners countrywide which are still being used by students to date.
Francis Ng'ang'a, the KEF's Country Director said his organization receives an overwhelming number of applications for financial support every year, and lauded Prudential for its continued support.
"We receive thousands of applications from across the country and were it not for the support of well-meaning institutions like Prudential, we may not have the capacity to honor many of them," he said.